Ever wonder how to enjoy the holidays
and
keep your health goals? Here are a few of tips that I have learned along the way to make it a little bit easier to stay healthy during the holidays.
Christmas Tree at my office building
Bring the Healthy Dish
You can't control what others cook and bring to holiday events, but you
can
control what you cook. Bring a healthy dish so that you
know
there will be something that you can fill your plate with at dinner.
If your family has the same list of menu items that everyone brings year after year, try to give your assigned recipe a healthy update. For example, if you usually bring the green bean casserole, try some steamed green beans with olive oil and toasted almonds instead. If you usually cheesy potatoes, try some roasted potatoes with rosemary and Parmesan. Healthy or not, if you bring a delicious dish, everyone will dig in.
For healthy appetizer options, try
Martha Rose Shulman's vegetable purees
, like this Winter Squash and Walnut Spread.
Follow the "One Bite" Rule
At large family get-togethers, there is often an overabundance of dishes to try. My "one bite" rule is to put no more than one bite of everything that looks good on my plate. If I really love something, I can always go back for more (second helpings are one of the best parts about holiday feasts!). If I'm not crazy about a dish, I don't have to eat a whole serving of it.
Learn to Share
Sharing a dish with another person cuts your calories in half. Sharing a dish with a very hungry person (like my husband) cuts your calories even more! My husband and I share dishes all the time when we go out to eat. That way, I get to try everything, but I don't feel obligated to eat the whole thing.
Sharing food during the holiday season is just as valuable. If there are 3 types of desserts that look good, make a deal with your significant other or another close family member to split a piece of each. You can each take a bite of everything without worrying about eating the whole slice or being wasteful.
Stay Active
If you have some time off of work around the holidays, use it to get some extra exercise. Take the dog for a walk in the middle of the afternoon just because you can. Hit the gym when you would normally head to work in the morning and get a double bonus - keeping your sleep schedule regular
and
getting an extra workout in when you really need it.
Keep Other Meals Simple and Healthy
When you have lots of holiday parties on the schedule, where you'll inevitably be eating and drinking more than you normally would, keep the rest of your meals simple and healthy. Stick to your breakfast and lunch routine to keep your body on track.
Use holiday leftovers, like ham and turkey, to make big pots of soup that you can have around the house (try this
Turkey pho soup
from
goop
to use leftover turkey meat). Healthy soups are perfect for lunch or a quick dinner before you head to a party. A good soup will keep you full so you don't end up overindulging on unhealthy appetizers and desserts just because you're hungry.
Start a New Tradition
This may seem obvious, but baking 10 kinds of cookies and having them sitting around the house in pretty colored tins is probably a recipe for disaster, at least in terms of staying healthy. Unless you have amazing self-control, you will likely find yourself snacking on the cookies all day without keeping track of how many you've eaten. Cookies could begin to replace your normally healthy breakfast or become a sweet snack after every meal that you eat at home.
Besides potentially leading to weight gain, eating too much sugar during the day will likely affect your mood. Holidays are stressful enough, but when your blood sugar is out of whack because of all the holiday desserts that you've eaten, that stress can be more difficult to manage gracefully.
But what about
tradition
? My advice is to try to start a new tradition. Instead of a "cookie exchange," where everyone makes a different kind cookie and then gets together to trade for more variety, what about a
soup exchange
? Everyone makes their favorite soup recipe and then packs it up in plastic containers and shares it with the group. Suddenly everyone has a variety of healthy soups to choose from to feed their family and any visitors that are staying in the house. Keep them in the refrigerator to enjoy during the holiday season, or freeze a few for those cold days in January when all you want is a bowl of homemade soup for dinner.
If you
really
want to make sweets, try some healthier recipes this year that utilize whole grains and fruit.
I really love
Nikki's Healthy Cookies
on Heidi Swanson's
101 Cookbooks
blog.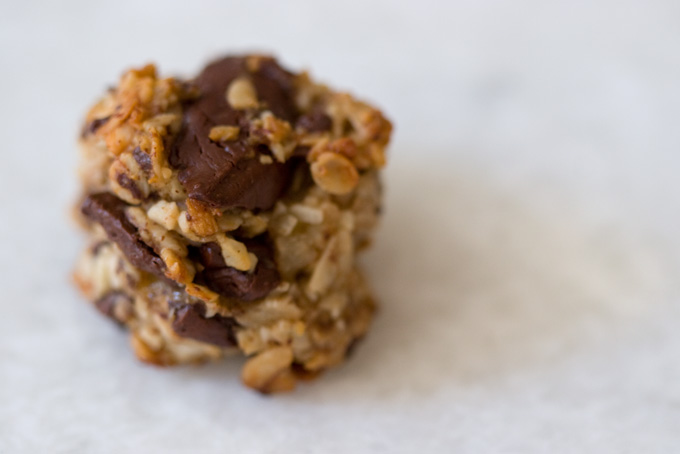 The Gift of Health
I love giving homemade edible gifts around the holidays. It's tempting to make really decadent, over-the-top desserts desserts to give away as gifts, but with so many sweets in most people's homes, the recipient may value your healthy homemade treat even more.
Last year I made several different kinds of granola and packaged them up in sampler packs to give away. Everyone enjoyed snacking on it, and I knew that it was made with whole grains, nuts, and dried fruit.
Another great option is to bake some loaves of whole grain bread to give away.
And finally, I think a small jar of
homemade nut butter
would be a lovely hostess gift. Perhaps something decadent like toasted walnut butter with cinnamon and dried dates.
By giving family and friends healthy homemade gifts, you're showing that you love them
and
that you value their health. And health is the gift that keeps on giving long after the holiday season is over.
Happy Holidays!